Interactive LCD Displays
60" Display Systems
Sharp AQUOS BOARD® interactive display
systems are much more than your
typical interactive white boards. Designed for smooth and effortless communication in a wide range of contexts, their highly responsive touch pens allow several people to write on the same touch screen at the same time. And the SHARP Display Connect software enables multifaceted wireless communication. Whether in the office boardroom or the classroom, Sharp changes the way you communicate.
PN-C603D
PN-C605B
PN-L603B
PN-L603W
80" Display Systems
Available in screens up to a spectacular
80" Class (80" diagonal), these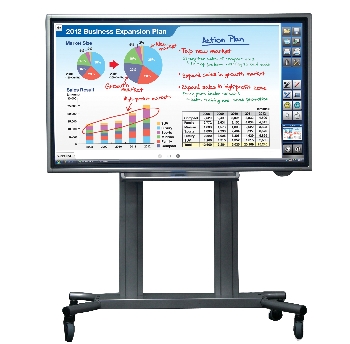 LED-LCD interactive displays give you convincing reasons to think BIG, with brilliant color images for greater communication power. Superior collaborative ease with touch-screen convenience. For versatility and performance in business office meetings, teleconferences, presentations, training/classroom instruction and high-impact signage, there's never been a better time to think BIG, and think Sharp.
PN-C805B
40" Desktop Display
With its 10-point multi-touch functionality and
high-sensitivity capacitive touch technology for a precise and smooth pen operation, the SHARP AQUOS BOARD® PN-L401C interactive display shines in a variety of roles and locations. Whether installed face-up or in a landscape or portrait orientation, it excels as an interactive information interface. Not only is it a powerful meeting tool, it can also be used to engage and inform people in stores, museums, showrooms and other public spaces.
*Screen image simulated.
**Available for download via included download application.
70" Display Systems
From the office boardroom to the conference
room, training session to
lecture hall, a Sharp touch-screen interactive display system can magnify your success. Motivate your audience. Improve your image. Give your message the impact it deserves. With Sharp on your presentation team, the possibilities are endless ... and every moment is right for a magnificent performance.
PN-C703B PN-C705B PN-L703B PN-L703W



4K High Definition

Sharp's PN-L705H interactive touchscreen
display featuring 4K*** resolution,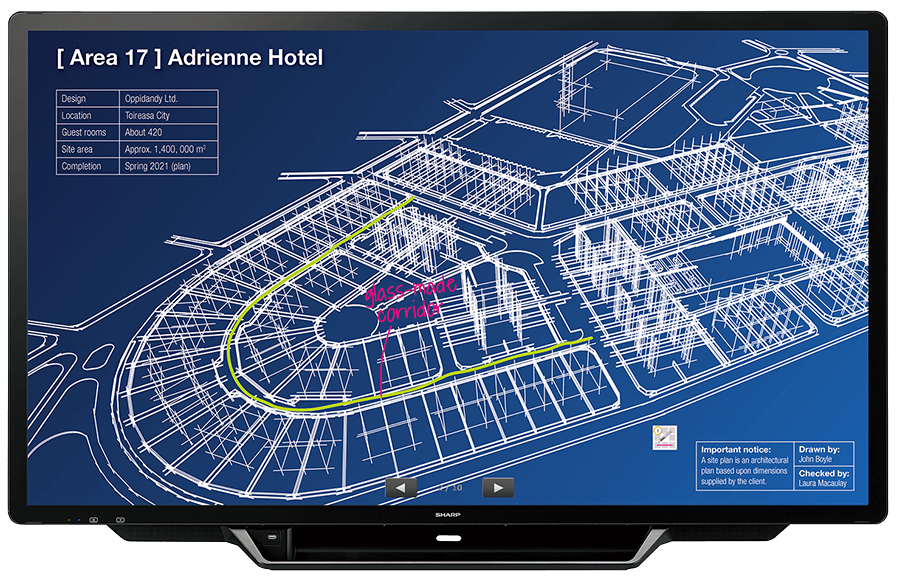 enhances the Sharp AQUOS BOARD® LCD monitor lineup. Stunning 4K Ultra-HD resolution reproduces your content accurately with incredibly precise rendering of color and detail. It offers the "Pen-on-Paper" user experience promised by the Sharp AQUOS BOARD series, providing revolutionary writing comfort close to actually using a pen to write on real paper. The PN-L705H can play an especially valuable role in the architecture, design, and video industries, as well as in museums and libraries, all of which require precise detail and superior interactivity. With the highly advanced feature set of 4K, direct bonding, and capacitive touch technologies, Sharp takes you to the next level.
*** (3,840 x 2,160 pixel resolution)
*Screen image simulated.
**Available for download via included download application.