Sharp Multi-functional Printing
Black and White Systems
Sharp multifunctional printers (MFPs) are designed to
make device setup
easier and faster. These are not your typical all-in-one copier, printing, faxing and scanning devices. Precision engineered to help increase workflow efficiency and provide exceptional image quality, Sharp MFPs are easier to operate, control, monitor, manage and maintain, helping take your business to the next level of productivity and performance.
View Models
View All Models
Full Color Systems
For years, Sharp document products and solutions
have been earning high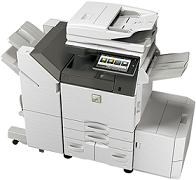 praise and prestigious awards from leading MFP testing organizations. For Sharp, this represents more than just an accumulation of accolades. It means that trusted industry experts as well as customers recognize our remarkable innovation, user-friendly design, outstanding reliability, unsurpassed security, and boundless expandability.
View Models