Sharp Multi-functional Printing
Black and White Systems
Sharp multifunctional printers (MFPs) are designed to
make device setup
easier and faster. These are not your typical all-in-one copier, printing, faxing and scanning devices. Precision engineered to help increase workflow efficiency and provide exceptional image quality, Sharp MFPs are easier to operate, control, monitor, manage and maintain, helping take your business to the next level of productivity and performance.
View Models
IT Reference Guide
As an Information Technology professional, you are no doubt faced with a unique set of challenges that pull you in many different and often conflicting directions. For example, you are forced to do more with less—supporting disparate assets throughout the sprawling enterprise with maximum interoperability and minimal resources. Internal policies and government regulations impose strict requirements on protecting the confidentiality of your information. You also aspire to reduce the impact of your operations on the environment through reduced energy consumption and recycling.

View Guide
Full Color Systems
For years, Sharp document products and solutions
have been earning high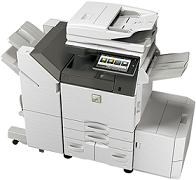 praise and prestigious awards from leading MFP testing organizations. For Sharp, this represents more than just an accumulation of accolades. It means that trusted industry experts as well as customers recognize our remarkable innovation, user-friendly design, outstanding reliability and unsurpassed security.
View Models
Sharp Security Guide
Organizations of all sizes rely on a vast array of technologies to help make daily activities and communication more efficient. Adoption of new platforms such as mobile and cloud, can increase the frequency and complexity of security challenges. The more open and intricate these platforms become, the more corporations and organizations face constant threats that could put sensitive information and business continuity at risk. However, implementing new technology is essential to keep up with the speed of business. Learn how the Sharp Security Suite can help safeguard your business.

View Guide